WASHINGTON, D.C. -- Text and social media analytics could offer significant value across federal government agencies and departments, and should be considered essential for regulators and lawmakers who want to stay on top of emerging trends.
That was the takeaway from a panel of experts from government, academia, and industry who gathered to discuss the art of the possible -- what people are doing and how they are using text and social media analytics -- at the 2013 SAS Government Leadership Summit. And while they cautioned that "we're not quite there yet" in terms of extracting knowledge from this data, they stressed that tools are rapidly evolving that could help the government turn information into action in the near future.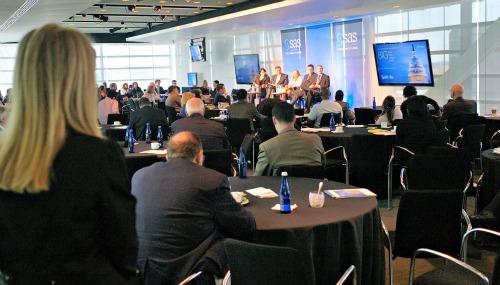 John Cassara, a former US Treasury special agent, author of several books on money laundering, and an industry adviser to SAS Federal LLC, discussed social media analytics as it relates to financial crime investigations and terror financing.
"Normally, when I speak, I like to share a few war stories. But this, the use of text and social media analytics, is so new there is very, very little out there in the public domain. However, it is possible, and we're moving toward it," he said, adding that the current use and analysis of social media within the US government "depends greatly on the agencies and departments and their internal procedures."
Although he cautioned that it is "no silver bullet" and raises still unresolved issues about privacy and civil liberties, Cassara predicted text and social media analytics will become an "important tool in the law enforcement toolbox."
Denise Bedford, Goodyear Professor of Knowledge Management at the College of Communication and Information at Kent State University and former senior information officer at the World Bank in Washington, D.C., explained how text analytics can create efficiencies in the ways information is defined, organized, and accessed -- delivering measurable and meaningful improvements in performance.
In recent years, she explained, there have been significant advances in the ways knowledge from text is extracted and validated, making it a better and more reliable source of information. "You can test your subjective opinions, develop objective models, and quantify ideas," she explained.
But Lieutenant Colonel Eric Hansen, retired from the US Army Military Intelligence Corps and now an engineering support manager at SAS, cautioned that just because something appears on social media does not make it relevant. "The challenge is using this information properly, so it is both efficient and informative," he said.
Tom Sabo, senior solutions architect at SAS, called social media "another signal" of impending events -- from disease outbreaks to economic trends. Sabo, who describes himself on Twitter as a "cognitive/computer scientist navigating the world of text analytics, government, and social media," stressed that opportunities for innovation abound -- from gauging public sentiment, influencing opinion, and shaping policy, to proactively identifying and reacting to shifting market, political, or social trends.
How much value do you think lawmakers and federal regulators can extract from free-form text in everything from social media, reports, comments, email, abstracts, and survey data? Could this data provide additional signals on emerging trends and potential threats?