If you are what you think, then All Analytics readers are a happy bunch. The majority of readers who responded to a recent
Quick Poll
think there is at least a chance happiness can be quantified and measured.
When asked about the prospect of measuring happiness, nearly as many readers said "absolutely" as "nope" -- and nearly 50 percent said "maybe."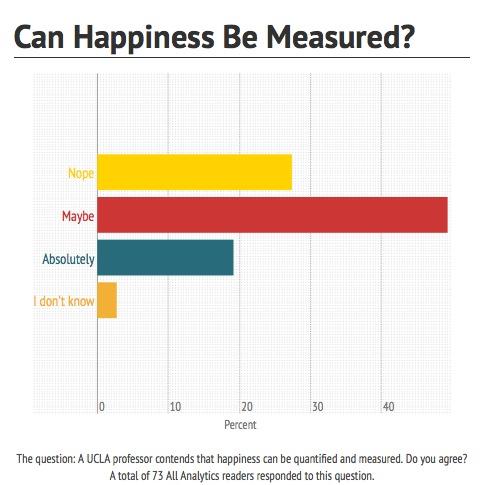 In 2012, UCLA Professor Rakesh Sarin co-authored a book with his former graduate student and co-investigator, Manel Baucells, called Engineering Happiness: A New Approach for Building a Joyful Life. The book quantifies happiness mathematically with a simple formula: Happiness equals Reality minus Expectations.
Sarin devised measuring units -- which he calls "happydons" [
ed. note
] -- so individuals can rate their moods on a 24-hour "happiness seismograph" and improve their "sum total" of well-being. Sarin acknowledges that the method is "not really precise," but it does allow people to quantify how they feel at a particular moment. The total of those moments adds up to happiness, or something less than that, he suggests. For example, say you had a headache. You might blame the headache for the loss of three happydons. To counterbalance, you engage in an hour of relaxation and gain three happydons. Money buys only a little happiness, Sarin explained in a
UCLA Magazine
interview:
[Sarin] cites a study showing American millionaires residing in ostentatious mansions are barely happier than African Masai warriors living in huts. And he points to $315-million Powerball winner Jack Whittaker, whose lottery bonanza led to jail, rehab, and despair. The most surprising finding is that in spite of the amazing progress we have made in the last 50 years, our happiness level has not budged much.
Sarin isn't the only one who thinks happiness can be measured. In fact, Daniel M. Haybron, author of Happiness: A Very Short Introduction, maintains "measuring happiness is no more mysterious or fraught than measuring depression and anxiety. And it should be no more controversial."
Mathematicians at the University of Vermont developed a tool that acts like a mood ring for the Internet. The tool analyzes 50 million tweets each day, and matches those tweets against a database of the 5,000 most frequently used words in four different bodies of digital work. Each word is assigned a happiness value on a scale of one to nine. The scale climbs on "happy days" and falls on sad ones.
The Journal of Happiness Studies is devoted to scientific understanding of subjective well-being. It focuses on both cognitive evaluations of life such as life satisfaction, and affective enjoyment of life, such as mood level, as well as things like job satisfaction and feelings about the perceived meaning of life.
Happiness has become such a topic of interest that researchers have formed a framework for studying it:
Happiness is made up of pleasure, engagement, and meaning.
It involves daily positive emotions and a global sense that life is worthwhile.
People can accurately report their own levels of happiness.
So, what do you think now? Do you agree with most All Analytics readers that happiness is measurable -- or do you still think it's too nebulous to quantify?