What if you could visualize the future for your community? Better yet, what if you (as just a community member) could have a hand in designing that future?
New analytics data visualization tools, now emerging for urban planning, are starting to make that possible.
One of the deployments at the leading edge of this technological revolution is the Sustainable Places Project (SPP) Analytic Tool Suite, sponsored by the city of Austin and a coalition of other central Texas communities and public agencies. Comprising multiple components, the system runs on a huge lash-up of processing power provided by the Texas Advanced Computing Center (TACC) at the University of Texas.
While it's still a project under development, the SPP Analytic Tool Suite already has demonstrated impressive results in pulling together multiple resources from diverse agencies, processing vast volumes of regional data, and rendering fascinating urban planning products for decision-making. It's taking urban planning to a new level.
What it's now able to do is feed fairly large data inputs (like census data) into a specialized analytics package to forecast the impact of sustainable urban development, particularly in response to dynamics such as rail transit development planned for central Texas, with data visualization as a major product. In other words, planners, politicians, and the public not only can get projections in the form of numbers, tables, graphs, and maps, but also can see alternative 3D simulations of what their communities could actually look like under different scenarios with different assumptions, as tweaked by users.
In a phone interview, Dr. Paul A. Navrátil, PhD, manager of Scalable Visualization Technologies for TACC, emphasized that, even with advanced analytics, there's always some uncertainty because "you're dealing with a lot of unknowns" and variables that could change everything. These could range from natural disasters to economic crashes to political upheavals. But, like weather prediction models, with lots of good data and smart analytic algorithms, you can get some extremely useful results despite the room for uncertainty.
What do these results look like? From an urban planner's standpoint, they're spectacular. Using its database of maps plus templates of types of local construction, the system can render 3D visualizations of what streetscapes can look like under the inputs of data and assumptions -- including local scenes, landmarks, and other authentic features, Navrátil said.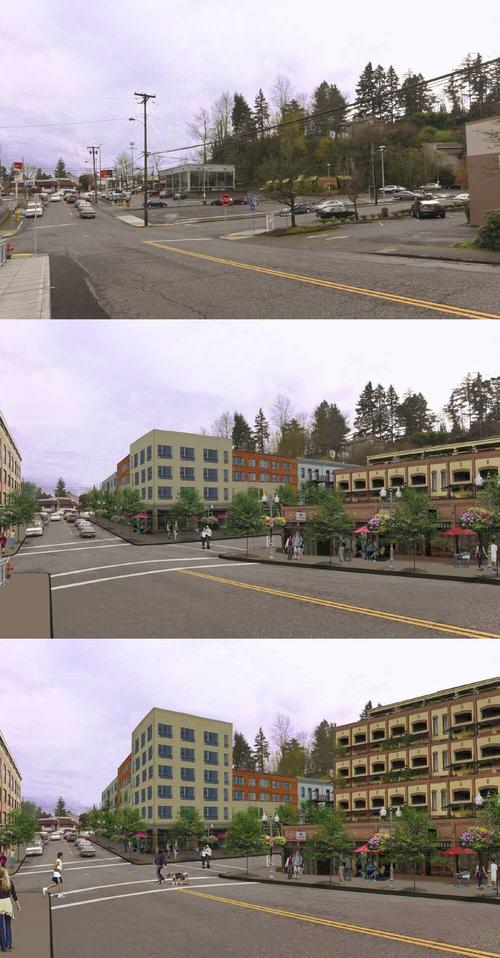 But the SPP analytic tool package also provides other kinds of output -- including tables, graphs, and maps -- presenting calculated results as well as visual simulations. Planners, officials, and the public have more, and more understandable, data about their communities and the potential consequences of their decisions than ever before.
A recent public presentation of sample results focused mainly on several case studies of areas served by a proposed Austin urban rail line. The analytics tool package generated a wide range of outputs, showing features and projections such as population trends, traffic impacts, economic development, tax revenue implications, and more. The presentation (which includes a description of the modeling package) is available for viewing as a PDF here.
The tool package consists of three major components:
Envision Tomorrow+ (ET+) -- a scenario-planning tool created by Fregonese Associates and Austin Specific Apps
SPARC -- a GeoDatabase server developed by Criterion Planners
CityEngine -- a 3D visualization tool integrated with ET+, developed by GIS software giant Esri (for scenario outputs)
SPARC, the core of the system, comprises the central data repository, holding raw, calculated, and output data. While output can take a variety of forms, such as databases, familiar graphs, Excel worksheets, etc., it's really the spectacular 3D CityEngine simulations that tend to steal the show.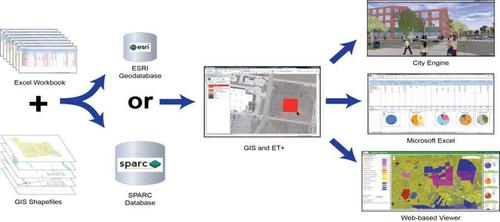 To run this powerful analytics package takes a beefy trio of supercomputers -- named, true Texas-style, Longhorn, Lonestar, and Stampede -- with a breathtaking total of 373 terabytes of RAM and nearly nine petaflops of computing power. This hefty computer firepower includes more than 15 petabytes of what Navrátil described as "spinning disk for intermediate data and maintaining data during simulation runs" -- certainly a Texas-size workbench.
While the analytics suite's capabilities and products are amazing, TACC is striving for something even more impressive: enabling users to interact with the system in real-time, changing data or assumption inputs, and then seeing the results immediately as data visualization -- accessible even to your own PC or tablet. TACC is not there yet, but it's vigorously pursuing funding from the Sustainable Places program of the US Department of Housing and Urban Development to move the project closer to that goal.
Would you like to see this sort of urban visualization effort where you live? Share your thoughts in the discussion below.
Related posts: