Way back when, we did not speak about the bigness of our data. We fussed over its accuracy and precision, its incompleteness, and sometimes, our need for more of it.
Having so much data that we could not cope wasnít a problem for most of us. We might hear stories of the computation challenges facing the US Census Bureau or NASA, but those tales didnít resemble the problems facing the average data analyst.
Access to computers, hard drives, and statistical analysis software opened the door to the acquisition of more data. Businesses collected more and more, to the point where even the latest in technology wasnít quite adequate to deal with it.
In 2001, Doug Laney of META Group characterized the problem in ď3-D Data Management: Controlling Data Volume, Velocity and Variety." Three words, each beginning with the letter V, summed up what we now call big data, because:
Thereís a lot of it.
More is coming in fast.
Itís in many forms.
Laneyís three Vs were clear, concise, and complete. They caught on.
But some people canít leave a good, simple recipe alone. A cheeseburger isnít good enough -- itís got to have bacon, too. The burger escalation is on. The door opens to burgers laden with special sauces, cole slaw, or even macaroni and cheese within the bun. So it is with V-words.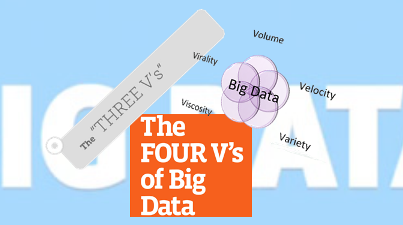 First, someone added "veracity." In normal life, that word means "truthfulness," but in the big-data world, it means "uncertainty." In other words, the data might not be complete or correct. No kidding. We had that problem before we had big data.
Then came "value." The data is worth something. That was true before big data, too.
Everybody had to do Doug Laney one better. They threw in validity, visibility, variability, visualization, victory (Iím not making all this up), and finally, volatility, which rhymes with futility and has about the same effect. One guy said recently that understanding big data can be "vexing and vague."
Three is enough
Laney got it right. He found an effective and memorable way to explain the unique challenges of extreme data resources. He was talking about data management -- focusing on costs, not benefits. He did it so well, though, that now everybody wants a piece of the action. So they add a word here and a word there, and hardly anybody credits the source. Some even claim to have started the V thing, as Laney pointed out in ďDeja VVVu: Others Claiming Gartnerís Construct for Big Data.Ē These villainous vandals have taken a vested interest in Vs.
If the proliferation of V vernacular has brought you to the verge of vexation, brace yourself. It will surely get worse before it gets better. Next youíll hear that big data is vital, valiant, vehement, venerable, and puts you in the vanguard of well, something. Yes, big data is viral, vivacious, vibrant, voluptuous, full to the brim with vim, and a nice addition to vinaigrette. It vanquishes vampires and Visigoths, makes them vaporize, vanish, or just vamoose. Big data will teach you some new tricks. Itís very versatile.
Thereís no virtue in this volley of Vs. Itís vain vulgarity, best suited to a vaudeville ventriloquist. An excess of Vs may (or may not) cause varicose veins, verrucae, and vegetarianism, so donít be vulnerable and end up drawn by the vacuum into the vortex. Be vocal and vigilant. Do not vacillate. Resist the voodoo! For Peteís sake, buy a vowel!
If this vent over V vocabulary has left you feeling vacant, make a vow: Stick with the original three Vs. Volume, velocity, and variety are all you need to sum up the big challenges of big data.
There are still some V words left in the dictionary. Heard any good ones lately? Tell us about it here.
Related posts: