We hear a lot about the underrepresentation of women in STEM jobs, but analytics is shaping up to be a level playing field, according to one industry expert's predictions for 2014.
Steven Hillion, chief product officer at Alpine Data Labs, listed this assertion at the top of his new year's forecast:
Women will take a far more prominent role in the world of data science, helping solve the data scientist shortage. Women are leading and succeeding in data science. Data science draws upon applied sciences where women have had great success. Data science is collaborative and communicative -- characteristics that have been traditionally associated with women. We're increasingly seeing more and more women entering and excelling in data science. Leading data scientists are as likely to be a woman as a man.
This prediction is based primarily on a talk that Hillion gave at this year's Strata Conference in New York. He said that, unlike in most IT roles, women are fairly close to achieving parity with men in data analysis.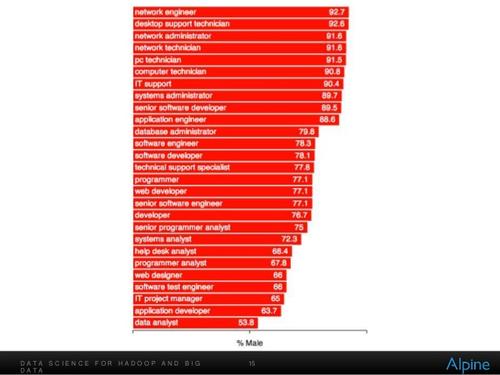 In the chart above, based on research from Bright Labs as reported by Fast Company, you can see that "data analyst" as a job title in the US clocks in at only 53.8% male. The stat seems to be borne out by Payscale.com, which pegs women at one-third of the data analysts in the UK, compared with only 10% in other IT jobs.
Hillion said that prominent data scientists like Corinna Cortes, head of Google Research in New York; Daphne Koller, professor of computer science at Stanford; and Annika Jimenez, global head of data science services at Pivotal, are considered superstars in the analytics space. And they're only three examples. (You can see more in our Women in Analytics series.)
Things get a little fuzzier, in my opinion, when Hillion brings up the "traditionally female" predilection for collaboration, communication, and success in applied sciences. As we discussed this week, the ability to write and tell compelling stories is critical for today's data scientist. Teamwork, too, is becoming a hallmark of analytics efforts across enterprises. Are women naturally inclined to be better at these softer skills?
I think we're venturing into controversial territory when we say women are better at x, y, or z simply because they're women. Hillion said this also concerns him, but "all of the women" he spoke to agreed with the assertion and encouraged him to communicate it.
Readers, what do you think? Can we throw around blithe generalizations about women? Is data science developing a vocational culture of gender equality? Share your opinions below.
Related posts:
— Michael Steinhart,

, Executive Editor, AllAnalytics.com