According to a new research paper, DNA markers hold the key to pinpointing your geographic origins. A treatise published in
Nature Communications
this month details the experiment and explains how, for some populations, DNA can provide point-of-origin accuracy within a few dozen kilometers.
The research, conducted by Eran Elhaik of the University of Sheffield and Tatiana Tatarinova of the University of Southern California, involved assigning a genetic admixture level (reflecting ancestral pool diversity) to each country's population. Looking at the combination of ancestral markers in each subject's DNA provides a good indication of where that person came from.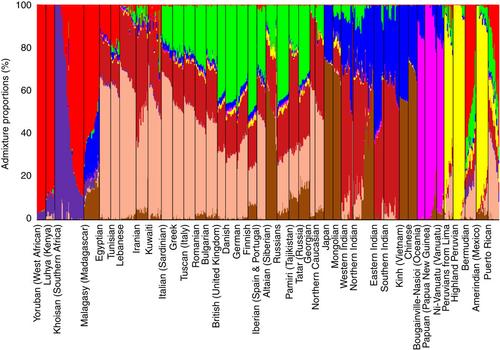 Live Science's Tanya Lewis explains the story in plainer English:
Elhaik and his team created an algorithm that uses genetics to home in on an individual's country of origin, called the Geographic Population Structure, with the fitting acronym GPS. The method first reconstructs ancestral human gene pools around the world. Then, it analyzes an individual's genome and associates each "letter," or base, in the genetic code with one of the global gene pools, creating a kind of genetic fingerprint. Finally, it matches each fingerprint to the fingerprints of populations that have resided in a specific location for a long time.
As you can see in the graphic, some countries have a high amount of diversity in their genetic pool. Others are fairly homogeneous. Any country that's had an indigenous population for several hundred years or more is compatible with the model.
In a sample of 600 subjects, GPS matched 83% to their country of origin accurately. For some island chains in Southeast Asia, the degree of accuracy sharpened to island of origin. For Sardinia, the algorithm plotted every subject to within 50 kilometers of their point of origin -- and 25% down to the village level.
What about countries where the population is relatively young (like the US) or especially diverse (like Bermuda)? Elhaik told Live Science the test is not as accurate for those places, because it tends to calculate the midpoint between origin points if a subject's parents are from different places. However, a future iteration of the algorithm will be able to predict the country of origin for each parent of a given subject.
Practical applications
Tracing your ancestry back through the centuries seems as though it would add a fascinating piece to the genealogical analytics puzzle, but experts say this type of genetic GPS could also have implications for personalized medicine, forensic science, and population studies. For those who feel a pressing need to have their DNA tested with the GPS algorithm right now, Tatarinova is offering the test to the general public through Prosapia Genetics.
What do you think, members? Are you going to send out a sample to find out where your six-times-great-grandparents did their grocery shopping, or is your DNA too complex a mix of cultures to nail down? I think that, even if today's versions of the algorithm can't account for "mixed" folks, it's easy to imagine a future where your DNA, linked with other data sources, can spell out your whole family history. Share your impressions below.
— Michael Steinhart,

, Executive Editor, AllAnalytics.com
Related post: