Before in-memory analytics, the process of building models, testing, revising, and finally deploying them could take
weeks or more
per model.
With today's tools, however, analysts can test theories, tweak models, and generate visualizations against large datasets in minutes. It's hard to grasp the scale of the computational gymnastics going on behind the scenes, because the whole process looks easy.
In the video below, SAS data scientist Wayne Thompson demonstrates SAS Visual Statistics, a suite that makes advanced analytics operations as effortless as pointing and clicking. We got a sneak peek back in January; the software was released to the general public today.
According to a press release, Visual Statistics is designed to work with Hadoop and other databases, running on specialized appliances or commodity hardware. The improvements in productivity, accuracy, and speed have proven game-changing for early adopters. From the release:
With SAS Visual Statistics, multiple users can build and modify predictive models on large volumes of diverse data, using analytical methods that include regression and estimation, classification, and clustering. They can then present the analytical results visually, which speeds the ability to discover relationships between variables and determine which will positively affect outcomes.
In-memory processing keeps the entire dataset in system memory instead of writing anything to disk, which, as you can see in the video, enables analysts to execute tasks with unprecedented speed. The drag-and-drop interface is already familiar to professionals who use SAS Visual Analytics, which the company says is already licensed at more than1,500 customer sites.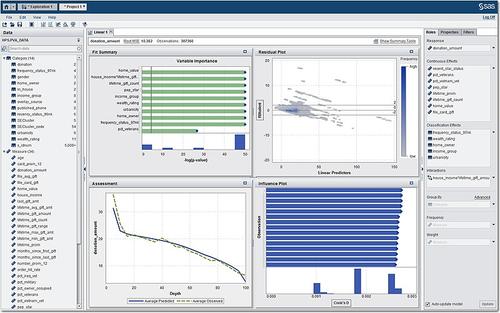 One early adopter, Dutch debt management firm DirectPay, has been using Visual Statistics in conjunction with Visual Analytics to gain deeper insight and communicate it more efficiently across the organization.
As explained in a case study last year, DirectPay works in the delicate field of debt collection, and accurate modeling of customer data can mean the difference between successful operations and angry, delinquent debtors. SAS tools enable fast and accurate analytics plus easy sharing via tablets and other mobile devices.
Colin Nugteren, operations manager at DirectPay, seems enthused about Visual Statistics: "Its speed and usability make it a great tool. We are certain that this new software will improve both model quality and model deployment time, since more variables can be tested in different combinations in a short amount of time."
SAS is quick to point out that Visual Statistics isn't just for large enterprises and large datasets. "It is equally valuable for departmental deployments or midsize businesses, operating on several platforms, including database appliances from Pivotal and Teradata, Hadoop distributions from Cloudera and Hortonworks, or departmental servers," the release states.
Members, do you use Visual Analytics currently, and will you try Visual Statistics? What do you find appealing about these new tools? Does the feature set make it worthwhile to upgrade? Share your impressions below.
— Michael Steinhart,

, Executive Editor, AllAnalytics.com
Related posts: