Healthcare providers that phase advanced analytics into their operations are finding that the tools pay for themselves in a matter of months, according to a panel of experts speaking at the
SAS Health Analytics Executive Conference
today.
Nancy Zurell, data governance manager at Rochester, NY-based Excellus BlueCross BlueShield, addressed the conference remotely. She explained that Excellus had attempted to implement data governance strategies several times, with limited success.
What makes the current efforts different, she explained, is that Excellus is using an incremental approach that is driven by analytics.
"It's important to view this as an initiative, not a project," she said, and her governance campaign is a good example. The initial awareness campaign ran for a year, working to answer the employees' question of "why should we care?"
The best way to respond is by pointing to "quick wins," Zurell said, and at Excellus, that came in the form of better error management in billing statements. Using SAS DataFlux software, the claims department reviews all checks and statements twice a day before they're processed each evening. Since November, the improved accuracy has saved Excellus $682,000, Zurell said.
That kind of success puts data governance on management's radar, she explained, and the initiative can then work its way up from the initial stage to a subject-area focus to an enterprise-wide program. At this stage, Excellus has visual analytics in place to measure high-level processes such as claims processing, precertifications, payments, and documentation.
Going forward, Zurell said she sees use of these tools expanding over the next three to five years and "raising the corporate IQ."
The right move at the right time
At Cleveland Clinic, analytics help physicians make minute-by-minute decisions for their patients, said Eric Hixson, director of outcomes and analytics in business intelligence.
His initial success in using visual dashboards for performance management began as a proof of concept involving technology from HP, Microsoft, and SAS.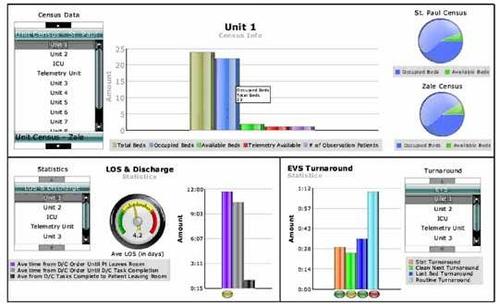 Hixson took the audience through the evolution of performance tracking from Excel-based spreadsheets in the mid-1990s to web-based delivery to the transition from monthly to daily reports. Once latency was reduced, he said, executives wanted to see scorecards that were combined from data sources across the enterprise and balanced to reflect various priorities. Putting that kind of information at management's fingertips via a web portal enabled Cleveland Clinic to "standardize the conversation," he said.
Today, however, 24 hours is far too long to wait for performance data. Hixson's team now collects data from Cleveland's electronic medical record (EMR) system in real-time and updates some dashboards at 10-minute intervals. "There's an appropriate window to get [healthcare tasks] done," he said, and the dashboards say, "This is our current state of every patient in the hospital and these are key processes that need to be done before that window closes."
Managers and physicians are using these dashboards to ensure that care is delivered in a timely fashion and to correct issues before they escalate. "We don't want to find out a month from now that there's a case that didn't get done, and then figure out what we can do in the future to change it."
Getting predictive
Hixson said the proof of concept has been a great success, and he aims to expand the role of analytics to achieve predictive and prescriptive benefits. His goals for Cleveland's business intelligence operation are:
Action-based decision making
Reduced development time and costs
"Model factory" capabilities
Automated performance monitoring for models
"We have a lot of forecasting models -- we're getting more and more," he said, adding that he'd like to target the ones that are least effective and remediate them quickly, with the overall aim of delivering accurate and compelling predictions. "I want to walk into a roomful of physicians and say, 'This is going to make things better on Thursday.' "
Members, can you point to any healthcare analytics "wins"? What would you like to see phased in at your healthcare provider?
— Michael Steinhart,

, Executive Editor, AllAnalytics.com
Related posts: