As we passed the midway portion of our
All Analytics Academy
program yesterday, the recurring theme of identifying the right presentation vehicle to bring data to a specific business audience kept bringing me back to a couple of comments posted by attendees.
When a speaker emphasized that different people perceive data in different ways and that one person will welcome data presented in a form completely different from what his coworker prefers, an attendee posted a comment along the lines of "this sounds like Myers-Briggs." In a subsequent discussion another attendee asked, "What's the best format for presenting results to police officers?"
I'm sure that many of you have gone through management training that involved the Myers-Briggs personality typing. It examines the different ways that individuals perceive what they see and hear, how they solve problems, and how they communicate. If you hear someone whining, "It said I'm an introvert" or saying, "I'm an ESTJ," they probably just took a Myers-Briggs program.
A lot of people take their Myers-Briggs training and try to find some connection -- or disconnect -- between their personality type and a coworker's type. Sadly, they missed a key part of the training. It's not about figuring out what makes someone else tick, but about the fact that the way you see, hear, and do things won't always be the same way that someone else does. You're not right or wrong, and neither are they. You're different people who need to take different approaches to work and communications. So, patience and understanding is crucial.
For example, when two people are presented with new projects, one will immediately map out a plan and schedule with action items and deadlines. The second person knows they have a deadline to complete the whole project and they sort of float along toward that final deadline. Both get their work done well and on time. But, boy, do they aggravate each other. Different, not right or wrong.
Let's carry that thought into how we present data to a business unit client.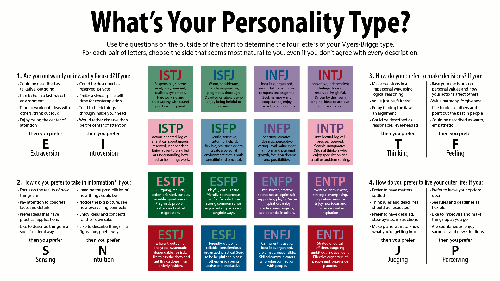 As James Haight of Blue Hill Research demonstrated in yesterday's lecture, there are some people who can look at a spreadsheet that is chock full of dates, sales numbers, and regional labels and quickly tell which region has sales issues. You might be that spreadsheet savant, but you can't assume that anyone else can spot those same trends. A bar chart or fever chart might work for some people, but for many others a map highlighting troubled spots in red effectively tells the story.
Presenting to police officers? There are something like 1.2 million police officers in the US. As we've seen in recent months, they aren't all the same. Run a few hundred of them through a Myers-Briggs program and you can bet that every one of the 16 boxes representing core personality types will come into play.
Similarly, they will want to receive data in different ways. One cop might love an animated, interactive visualization, while another will be content with a red, yellow, green dashboard. Yes, there even will be a few of those spreadsheet savants.
One of the strong messages coming out of the three A2 Academy sessions so far this week is that the analytics team has to get to know the audience that will receive the results of their project. It's not a simple provider/client relationship but a partnership. The analytics team has to get to know how the business manager works, what challenges they face, their goals, and how they communicate.
Through that partnership the analytics team learns more about what data the client really needs and how to present it, and the client learns what data they can expect and what isn't available. Presentation isn't just about what the analytics pro likes but what the client likes and needs.
If you missed any or all of the first three A2 Academy sessions, it's not too late to hear what our guest presenters have to say. Those classes are available on demand, and you can catch the final two sessions live, beginning at 2 pm today when Tricia Aanderud discusses how to prepare for that crucial end-of-project meeting with business leaders who might not like the news they are going to hear.
Download the first three sessions or sign up for the remaining classes on the calendar page.
What differences have you noticed in the personality types of the business teams that you support? Share a comment or two.