The question remains unanswered: Where does the role of a computer end and the role of a human begin? Or, maybe I have it backwards: Where does the job of a person end with the computer taking command?
Assuming that data isn't close to making all of our decisions for us, I guess the best answer is "somewhere." The human/machine issue has been popping up more frequently of late, although not in a bad way.
Consider these recent developments:
An All Analytics Quick Poll, Look Into the Future: Analytics in 2025, revealed that the A2 community does see some balance between machines and people, even looking out 10 years. Forty percent of our respondents said, "We will keep analytics as a key adviser, not decision-maker."
However, plenty of other voters (32%) said, "Analytics will make half our decisions for us and advise us on important ones." If that doesn't tip the balance toward machines, then consider that a number of voters (19%) believe that 10 years from now "Analytics will drive us to work and make all our key decisions for us."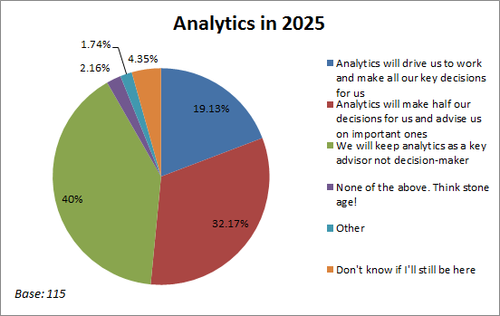 So, what becomes of people? Techcrunch shared some ideas in Big Data Still Requires Humans To Make Meaningful Connections. The author noted, "While the rate of technological change is increasing ever more rapidly, we still tend to overestimate just how advanced we are. Clearly, we still need humans to help make sense of the data we are collecting."
An earlier TechCrunch piece highlighted how analytics on their own would not have prevented the horrible terrorist attacks in Paris, saying, "Effective counter terrorism policy requires spending money on physical, on-the-ground resources -- putting more agents on the ground, within local communities, where they can gain trust and gather intelligence...The data is useless without the human element to connect the dots."
I would make the argument that human knowledge still matters. Let's say that a knowledge database can capture much of what a repair person has learned over the course of 30 years. That can help other repair people do a better job when that 30-year vet is unavailable or retired. But for that computer to keep learning it will have to tap into the fresh, hands-on knowledge that all of the repair crew acquires in working with new technologies. Plus, someone still has to handle the wrench that turns bolts on a broken machine.
Similarly, a computer can collect the institutional knowledge of sales people and meld it with customer research data to direct the sales team on the best message to deliver when facing prospects, particularly when the potential customer tosses out an unanticipated question. Computers increasingly learn how to think, but thinking on one's feet remains a human characteristic.
What will be fun to watch in the years to come is how human and computer roles evolve, not only in terms of where the balance is but also how new jobs emerge. We've already seen plenty of examples of shifting roles over the past decade. What jobs -- or at least aspects of a job -- have you seen that will remain strictly human?