Back in the dark days of the 1970s and 1980s our consumption of news typically was limited to reading a couple of newspapers, catching the evening TV news, and listening to the top-of-the-hour radio news. If we had time, we caught up with a business magazine.
Despite the death of many newspapers and magazines, the Web has expanded our access to news in an exponential manner. I think we now can browse more headlines in an hour than we once saw in a week. With so many stories it's only natural that we can see -- or at least imagine -- relationships between two very different articles.
That's what happened a few days after I read a Gartner Inc. press release Gartner Predicts Smart Machines Will Make 5 Percent of Digital Commerce Purchases in China by 2020. The research firm wrote, "Smart machines as a digital commerce customer will go from almost nonexistent today to 5 percent of purchases in China in 2020, as human customers become more comfortable with smart machines and fierce competition forces customer experience innovation."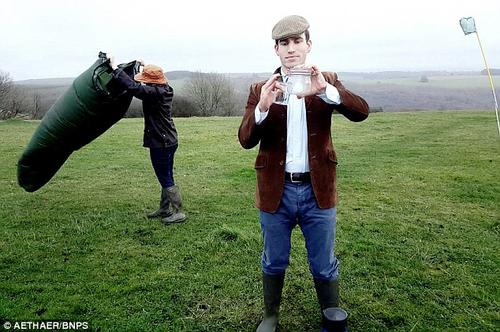 As you can envision, analytics-driven applications would play a key role in that type of scenario. A consumer's e-commerce app would understand your buying patterns and, once you learn to trust the app, it would be able to spot products or services that you need before even you realize you need them. I'm still not sold on the idea of things like the smart refrigerator that tells you when you need milk, but I suppose they would appeal to some people.
Then, yesterday, I put this machine-based buying concept into perspective. I suspect that it might be behind the success of a young British entrepreneur, Leo De Watts.
The Daily Mail said, "A former public schoolboy is making thousands of pounds from selling air from the British countryside to the Chinese for £80 a bottle. Leo De Watts 'farms' fresh-air from Dorset, Somerset, Wales, Wiltshire, and Yorkshire and sells the bottles to people in smog-plagued Beijing and Shanghai. His teams put bottles in specially adapted fishing nets and hold them aloft as they run through fields to 'harvest' the product."
I hadn't heard of this type of scam since I was a kid, when joke stores and souvenir shops sold cans of authentic Maine fog. That fog, which mysteriously disappeared once you opened the can, allegedly was harvested on what hack journalists refer to as the "rocky, fog-bound coast of Maine."
Of course, the big difference between the two was that the can of fog was meant as a 25-cent joke. That 80 pounds figures out to about $150 US. Even the wealthy would find better uses for $150. So, I can only assume that some faulty algorithm is deciding that people in Shanghai and Beijing need a jar of British air.
Whether P.T. Barnum actually said, "There's a sucker born every minute," or someone said that about his circus booths filled with bearded ladies, fire eaters, and missing links, I suspect that the truth in the statement lives on. At least in this case we might be able to fall back on that easiest of modern excuses, "The computer did it!"