Sometimes I think that the only thing you can be sure about when it comes to data is that it will surprise you. In seeing hundreds of reports per year based on surveys, polls, and, increasingly, big data visualizations, I seldom see a report without noting that I would have expected a particular data point would have been higher or lower.
I try not to get depressed about my abilities as a prognosticator. Sometimes I view the surprise as a learning moment. Sometimes I stoop to the natural approach for mere humans, and I say the data must be flawed.
Over the past couple of months I've been surprised by our own data here on All Analytics. The last two Quick Polls didn't turn out quite the way I expected. I do acknowledge that any online poll isn't nearly as precise as a well-crafted survey. You even could argue that any online poll has a margin for error of maybe 50%. But I look at a such a poll as a way to get at least a basic sense of what people feel.
One of the polls was launched in August, Global Bang for the Byte. I was pleasantly surprised to see 210 respondents sharing their opinions about which analytics-based application area promises the greatest societal benefits. Then, with all of the talk about self-driving cars that promise to allow you to tweet and text your way to work in the morning, I was afraid that many in the A2 community might vote for autonomous vehicles as some vital global solution.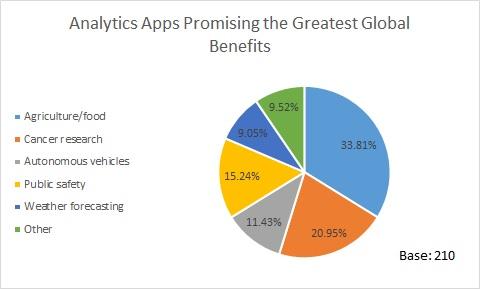 However, most of you listed agriculture/food, cancer research, and public safety as the best targets for data-driven applications. Thank you for having your hearts in the right place.
My surprise bordered on shock in the recent-concluded Quick Poll, Those Citizen Data Scientists, which asked whether your organization sees a need for business people who learn the basics of analytics technology or partner with trained analytics pros.
Please understand that in the months we've been discussing the concept of citizen data scientists I have encountered a few managers who are implementing the idea, a few who are lukewarm on it, and others who have been outraged. Yet, 56.5 percent of poll respondents viewed the idea as a way to close the data science talent gap, and another 21.7% say citizen data science will make sense in the future. The anti's said "bah humbug" only 15.2% of the time.
If forced to interpret the results of the citizen data scientist poll, I would assume that those endorsing the concept recognize that there is plenty of data work to go around and that those business managers who take crash courses in using analytics tools will be supplementing, not replacing those experienced data sciences who have earned multiple advanced degrees.
Yet, that's just speculation; I'm left to wonder. I suppose that data that meets our expectations largely just validates our pre-conceived notions -- and yes, we all have such notions -- but that the great benefits of a surprise in data is that it creates wonder, urging us to look deeper as we ponder the "why" behind the numbers.
Now, it's time for our next Quick Poll, Project Pitfalls. Tell your peers what you think is the greatest threat to the success of an analytics project.