It's like reading, cooking, cleaning, or courtesy. When it comes to kids, start them young on all those things. Of course, these days, you could add "cell phone" to the mix. Now, how about "coding"?
Teaching programming and development concepts to kids in grades three through five is the idea behind SAS CodeSnaps, a no-cost app for schools from SAS (sponsor of this site). Using an iPad and a Sphero robot, a teacher can conduct a lesson in software development for an entire class.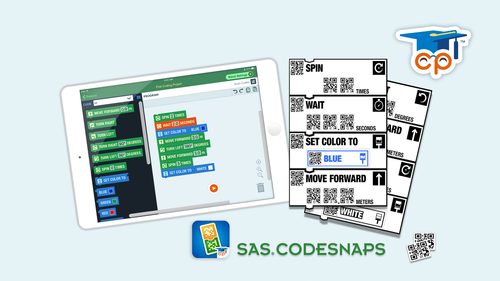 The SAS Curriculum Pathways posted a Facebook video of kids at a Raleigh, N.C., elementary school using the tool. The kids set out printed paper blocks to guide the robot along a course through the classroom.
All of us have seen articles and heard discussions about the need to get more kids involved in science, technology, engineering, and math (STEM) curricula and careers. In addition, we are all familiar with the efforts to get more high school and college students to learn programming languages.
Maybe some of the kids who use CodeSnaps will become engineers or the driving forces behind some Silicon Valley startup. That would be great for them. However, developments like CodeSnaps can have a much broader impact, getting the rest of the kids off on the right foot, whether they choose to become lawyers, doctors, teachers, or something else.
What these kids seem to be learning isn't just about how to program a robot but the thought process and the work that goes into technology. It's about why we have that technology and what we can do with it.
Technology will be a core in the lives of all these kids. If you think we're tech dependent today, imagine what the workday and home life will look like 10 or 15 years from now when today's elementary students get into the workforce. Teachers will teach readingn with tech. Lawyers will try cases with tech. Doctors will deliver healthcare with tech.
With applications and user interfaces that probably aren't even on the drawing board yet, these future adults will have one thing in common with tech users today. They will have to understand the capabilities as well as the limitations of their tech tools. That understanding will allow them to make the most of that future technology -- developed by those kids who do opt for a technology career -- to get them through their days but also to push technology to its logical limits.