The conversation about data privacy continues. Each of those messages that we get from a bank, a retailer, or a website -- the ones that open with, "We have no reason to believe your data was compromised but we did have a breach" -- makes privacy less of a laughing matter.
We don't find ourselves bellowing, "Ho, ho, ho." Neither does the right jolly old elf in Jon Carter's latest cartoon. There's none of that old, "I'm not worried, I have nothing to hide."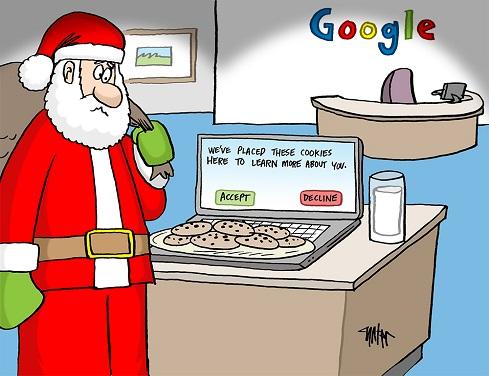 As we heard several times during our November All Analytics Academy program, what we have to hide isn't necessarily the bad stuff from that trip to Vegas, but everyday information about our families, finances, and travels. It all goes into that mix we call big data. Maybe what we have to protect is is simple as the magic in that miniature sleigh with eight tiny reindeer.
There's something else you see in the wondering eyes of Carter's St. Nicholas. There's that feeling you get at night when you sense someone walking behind you. It's the same unease that comes when you know someone is watching you. It's all the more worse when they tell you they are watching you. Gee, it makes you want to dash away, dash away, dash away, all.
Carter's Santa has lost his smile, no droll little mouth drawn up like a bow, no dimples so merry. No, he's wondering about the free cookies and milk. He knows what his own Mama in her kerchief had told him when he was the child nestled all snug in his bed -- that there's no such thing as a free lunch.
Sometimes we force ourselves to pretend certain things. Even after we once spied what looked like a sleigh full of toys stashed in the attic behind the luggage a week before Christmas, we believed the wonderful fairy tale. As adults we helped our kids believe. Now, also as adults we know the truth behind the fairy tales. One such fairy tale is that companies want us to play along with them so they can help us, so they can improve our experience. That they do so in a good-hearted way. We hand over our data to our new friends with shouts of glee; we're getting something for nothing. We get discounts, videos, trip directions, news, all for free. Ah, those are the visions of sugarplums dancing in our heads.
One other observation about Carter's Santa. I think Mrs. Claus gave him a Fitbit last Christmas, and he lost a few pounds. No little round belly that shakes when he laughs, not even like a bowl full of jelly. (Thank you, Clement C. Moore).