Communicating with numbers has always been a challenge in businesses and other organizations, and it's one that's come to the forefront as more are embracing analytics as central to informed decision-making.
But if you show any business user the right visualization, you help that person understand the meaning behind the numbers. That means less time explaining what it means, and enabling faster decision making for today's hyper-paced business environment. It's what everyone wants. Data visualizations have gained sophistication and style over the years. They aren't your father's pie chart or bar chart anymore.
What if you took those visualizations one step further? What if you went not just 3D with them but put them into a virtual reality environment?
That's just what SAS (sponsor of this site) did with a prototype it was showing off at the recent NRF Convention and Expo in New York this week. While other vendors catering to retailers were showing VR for customers to walk through stores, the SAS VR experience was all about providing analytics about the store to business users making decisions.
SAS booth visitors at the NRF show could check out the demo on a big flat screen in the booth, or they could strap on a virtual reality headset to get the full experience.
When I put on the headset in the booth this week, I was dropped into a retail store environment (as opposed to the Minecraft world my sons let me into sometimes). A video game controller let me navigate through the store's aisles, stocked with food items, clothing, and other goods.
Exclamation points in this VR environment indicated alerts issued by the analytics system. Inventory was selling more quickly than expected in one display, and when I clicked in to learn more, I found that there was a significant discount offered that maybe wasn't needed.
The store VR environment could also be overlaid with a heat map of store foot traffic. What's more, the display also showed me where customers fitting certain segments or profiles, such as budget, mainstream, price conscious, or premium, spent their time.
As I "walked" to the clothing part of the store, another visualization provided me with a look at demand versus sales for various sizes of clothing SKUs.
When I headed over to the check out and customer service areas, I saw another exclamation point. Clicking through showed me information about loss control and how one employee had a hugely disproportionate number of returns accepted without receipts.
Over in the major appliance section I could see the location of inventory tracked with RFID tags and the status of that inventory.
Dan Mitchell, director of SAS's Global Retail Practice and a trained cartographer told me in an informal interview that the VR experience also lets you view multiple store locations on a map and get a big picture of how these locations are performing. Then the user can drill down into individual stores for the store experience and more information on the performance of that particular location.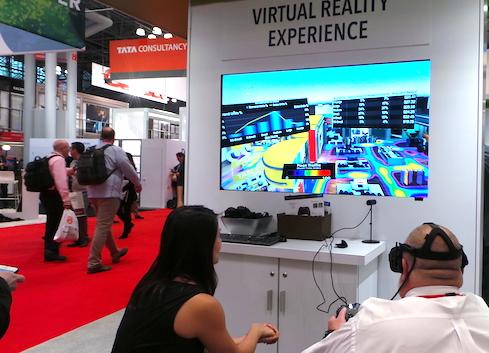 Today the Virtual Reality Experience is still a prototype, Mitchell said.
In that way, it's like many of the newest technologies on display at a big show like NRF. But it represents where the technology may go. In this case, it represents a way for business users to gain another window into the meaning of the insights provided by analytics.