You're getting ready for a business trip and need a new pair of pants, so you head to the department store. You find the brand and color you want, but your size is not in stock. You can't find a sales associate to help you. You leave. Who knows when you will go back to that store.
That's a nightmare scenario for retailers. In an age when so much data about customers is available to retail companies, most have only just scratched the surface in leveraging that data to provide a customer experience that truly anticipates consumer demand and is ready to fulfill consumer needs.
Yet anticipating those customer wants and needs enables retailers to be ready to fulfill them, and that is really one of the key goals for retailers today.
"I expect you to know who I am and what I might want based on the data I'm giving you access to," said Adele Sweetwood, senior VP of Global Marketing at SAS (the sponsor of this site) and author of the new book, The Analytical Marketer: How to Transform Your Marketing Organization. Sweetwood brought her analytics marketing know-how to the National Retail Federation (NRF) Convention and Expo this month, and shared her insights about retail and marketing with All Analytics in an interview. "I want to be able to go online and go to the store," and have the retailer view that profile as a single customer.
That's similar to the shift that Sweetwood has pursued for SAS's marketing organization, working to eliminate the silos defined by channels such as email marketing, social media, search, content, and others.
Such silos can create separate objectives for the different teams in each of these areas, and you don't want the content team's strategy to conflict with the social media team's strategy. So Sweetwood shifted the organization to create a shared services model for a group of go-to-market teams.
The approach to fix data silos could also be applied to one of the big challenges that traditional retail brands face today. These companies started with physical stores alone, but are now facing an influx of data from their online commerce efforts. In the past organizations have started by looking at the data from the channels. The big shift is to start by looking at the customer first, and then looking at what channels the customer touches. That could be the ultimate goal and benefit of omni-channel integration for retailers as they work to make sense of data from ecommerce sales, physical store sales, social media channels, and more.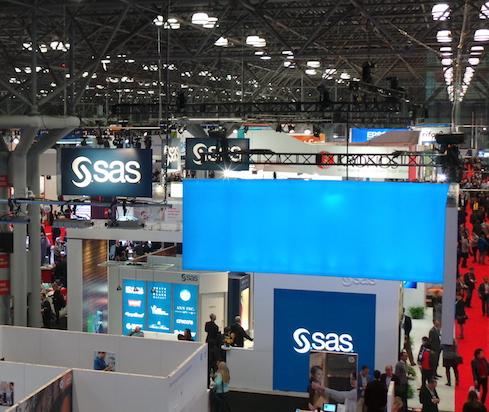 Sweetwood said that retailers run the gamut in their adoption of analytics technologies to gain insight from all this data. Digital native ecommerce retailers have an advantage because they got an early start in leveraging analytics to improve sales and operations. But retailers overall have lagged other industries, such as financial services, in adoption of analytics technologies.
"Your more traditional retailers that have been in business for 100 years have the value of that much data and the curse of that much data," Sweetwood said. "Their analytics adoption has been more complex and difficult than they would like."