As baseball fans get ready to celebrate Major League Baseball's opening day, college
basketball fans
look forward to the Final Four as we wind up this year's March Madness Tournament, and hockey fans prepare for the end of the
regular NHL season
, there's no shortage of commentary and content about professional and college sports.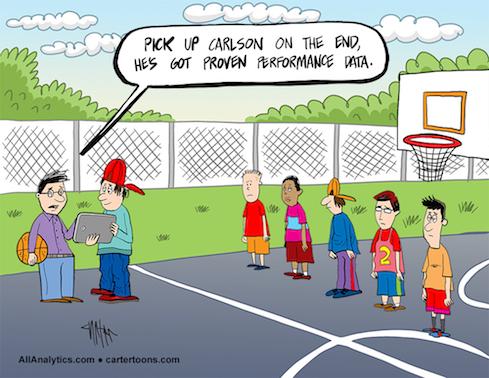 March is a great time of year for sports fans. There's so much to watch and so much excitement in the air. The rise of analytics to the mainstream is only adding to that.
Fans have always combed over the statistics for their teams and competitive teams, looking to predict the outcomes. Now wearable technology, connected devices, and analytics are bringing more information and insights to the game of predicting what will happen.
As Jon Carter illustrates in his Cartertoon this month, the practice may even be filtering down to the playground. After all, more kids have mini computers -- also known as smart phones -- in their pockets today. Looking to record or access sports information or individual player information? Well there's probably an app for that.
And these are the very same boys and girls who are being encouraged to consider pursuing careers in STEM fields -- Science, Technology, Engineering, and Math.
Combining that love for science, math, and technology with participation in sports is not a bad idea. Such hands-on activities with technology that let students see results in the real world may encourage them to pursue STEM careers. And encouraging sports participation is an important antidote to spending too much time at a desk coding.
Do you know kids or have kids that are using technology to collect performance information for their own teams? Let us know in the comments.