A decade ago the iPhone was a new device and there wasn't an app for much of anything. Competing on analytics was a new concept. And we were considerably less worried about artificial intelligence taking our jobs and taking over our world.
Boy, things have changed in the last 10 years. Those changes were the major theme of the speed keynote talks on the mainstage at the SAS Analytics Experience conference in Washington, DC, yesterday, featuring former US Chief Data Scientist DJ Patil; SAS CTO Oliver Schabenberger; and author, professor and consultant Tom Davenport.
Patil
"We live in a remarkable time," said Patil, leading off the lineup of speakers.
For instance, he said, we expect instant and customized news, real-time traffic information and mapping, car service on demand, one-day shipping, and many other instant conveniences.
Patil said that the US created the office of the US Chief Data Scientist with a particular mission in mind -- to responsibly unleash the power of data to benefit all Americans.
"Two words that were carefully chosen were 'responsibly' and 'all' Americans," Patil said. "We should think of technology as neither radical nor revolutionary unless it benefits every single person."
Patil listed several efforts underway to unleash the power of data in the nation. One effort in Miami Dade County, Florida was designed to improve data sharing among agencies to enable better crisis intervention by police officers. When the police force was provided with a spreadsheet of those suffering mental health issues, the police were better equipped to deal with crisis situations and to route mental health patients to safe situations instead of prison.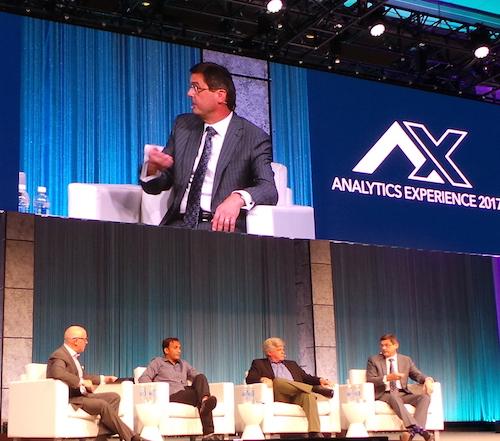 Other examples included grassroots efforts in precision medicine for cancer and genetic disorders, and device tracking data to help determine where cities should spend money to improve lighting and safety.
Patil said that people are the major force that enables data to fix problems.
Schabenberger
Schabenberger provided an overview of some of the emerging technologies around data science, analytics and artificial intelligence and reassured the audience that today's artificial intelligence does not work like the human brain, and tomorrow's AI won't work like the human brain either. But AI and related technologies do offer hope for greater automation in the future and that's something that we need.
"We are generating huge volumes of data," he said. "We are streaming and handling much more data than we need to. Devices are not often within network range and they have expiration rates." That's why one of the emerging tactics is to collocate data and compute. That is how you can create a wind turbine that can best adjust its own blades with data from the field, for instance.
"Our interest in machine learning reflects our need to process faster," Schabenberger said. "It's not a model driven approach. It's a data driven approach. So that appeals to us because it affords opportunities for automation."
Now, with technology like deep neural networks combined with big data, we are achieving accuracy in natural language processing, computer vision and more. So for instance, a machine can be created that can beat a human in a game of Alpha Go. And those same lessons can be applied to other situations, too. For instance, deep neural networks may be applied to help maximize the lifetime value of the relationship with a customer.
Davenport
Davenport's appearance coincided with the 10-year anniversary of his book, Competing on Analytics, and the publication of the new and updated edition of the book. It's been a decade of change for analytics, and so there was plenty of opportunity to update the book.
In his presentation, Davenport listed 10 analytical technologies that came of age within the last decade, including Hadoop, Spark, Python, text analytics, streaming analytics, and social media analytics.
"This was the era in which everybody figured out what Money Ball was," he said. It used to be that a couple sports teams employed an analytics person. Now every team has an analytics person, Davenport said. Now many more industries and organizations are deploying and competition on analytics.
Davenport provided insights into the different eras of analytics -- artisanal analytics (1.0), big data analytics (2.0); data economy analytics (3.0); and cognitive analytics (4.0) -- and some of the processes required for progress in each one.
Ultimately, all of the panelists agreed that the goal is to augment human work and decision making, not necessarily to automate it all.
"There is a great difference between automation and autonomy," Schabenberger said.