Thanksgiving weekend is a big one for analytics. From those Thanksgiving day football games, to tracking your Turkey Trot on your wearable, to optimizing the retail experience, there's data to be collected, cleaned, managed, and analyzed to optimize future performance, predict trends, and evaluate what we've done so far.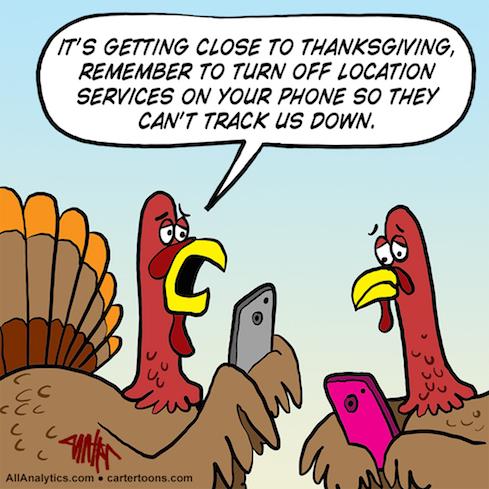 This year at AllAnalytics we've helped you stay on top of topics from machine learning to natural language processing to artificial intelligence to GDPR. We've interviewed many experts on the A2 Radio show, we've hosted 10 A2 Academy sessions, and we've traveled to several different events in our effort to provide the community with a front row view of what is happening in the analytics space.
We are thankful for the opportunity to bring this information to you every day. And we are thankful for you, the A2 community, for your support and participation -- which is part of what makes AllAnalytics a great place to connect with other practitioners and enthusiasts in the analytics field.
Thanks to you for making 2017 a great year for AllAnalytics.
But like the turkeys in this Jon Carter Cartertoon, let's not forget to unplug for a little while. Be sure to take time out, turn off the computer and the phone, and spend some quality time enjoying and appreciating families and friends. Like these turkeys, let's turn off those locations services and get lost in the holiday celebration instead.